---
Homecoming Gets SWAU Get to Campaign Goal
Homecoming Gets SWAU Get to Campaign Goal
Apr 14 2016 - 12:15am
By: Glen Robinson
Southwestern Adventist University welcomed over 600 alumni to the campus this past weekend for the annual Homecoming event. The alumni traveled from all over the country to visit their alma mater. During the festivities, Southwestern celebrated the 100th birthday of one of the alumni, local resident Morris Lowry, and honored seven individuals for their contributions to their communities and their University at the annual Homecoming banquet. Five of the honorees are from Johnson County.
The weekend was event packed with special music performances by the University Singers and Wind Symphony, guest speakers featuring our alumni, a golf tournament, a disc golf tournament, a Young Alumni BBQ, and alumni vs. current students basketball, soccer, and volleyball games. The guest speakers included Pastor Bill Tucker – class of '66, Pastor Buster Swoopes – class of '06, Pastor Keith Gray – class of '91, Pastor Jerrod Songy – class of '08, and Pastor James Winegardner – class of '82.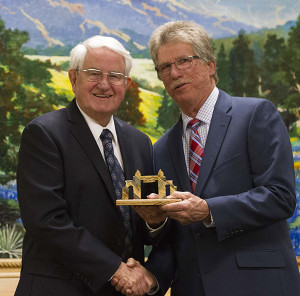 Dr. John Read receives his award as a Hall of Fame Inductee from Jimmy Aiken, alumni special projects manager.
A special congratulations to our honorees: Alumnus of the Year  Dr. Dennis Haslam '96, Alumna of the Year T'resa Noodel Weaver '91, Alumnus Volunteer of the Year Jerry Krentz '66, Alumna Volunteer of the Year Valeria Florea Liggett '91, Hall of Fame inductee Betty Black Heinrich '61, Hall of Fame inductee Gary Heinrich '61, and Hall of Fame inductee John Read—Staff '62–'80.  The full bios for the honorees and weekend photos can be viewed at swau.edu/alumni or by visiting our Facebook page at facebook.com/swaualumni.
The weekend also included two landmark events.  The Mizpah Gate, after sustaining damage from a car accident this last fall, was completely restored just in time for Homecoming, welcoming the alumni to once again walk through the historic monument.  "For many of our alumni the Mizpah Gate is a tangible representation of their memories," says Dr. Ken Shaw, president.  "The Mizpah prayer states that God will watch between us even when we're absent from each other, making the gate a portrayal of who we are, of our mission to serve.  The Mizpah Gate is also a part of our annual dedication service as we welcome each new freshmen class.  We are thrilled to have this piece of our campus heritage fully restored."
This weekend the alumni also responded to an appeal from Shaw to help the campus meet a challenge grant deadline from the Mabee Foundation in order to build a new building for the growing nursing department.  Over the past three weeks the University has been the beneficiary of several major gifts totaling $250,000, $1,000,000, $2,000,000, and many smaller yet important gifts from community members, alumni, friends, and University faculty, staff, and students. When the weekend started, Southwestern Adventist University needed just $400,000 more to make the challenge grant April 15 deadline.  The alumni responded enthusiastically; just under $267,000 is now needed to meet the deadline.
"I am overwhelmed by the response. We are so grateful to the 80+ alumni and friends who gave this weekend and for God's many blessings," says Shaw. "We have seen Him work as we went from $3.8M to $7.7M in just three weeks!"
Southwestern Adventist University now needs the equivalent of 267 people to give $1,000 to receive the $1,000,000 challenge grant. For more information about the future nursing and administration building or to make a contribution, visit swau.edu/givecampaign or contact Kisha Norris at knorris@swau.edu or 817-202-6233.
Tagged with: homecoming, alumni, alumni weekend, capital campaign, president's office, campaign, larry r moore building, nursing building