Previous page
/
Two Young Alums Recognized Their Nursing Excellence
Two Young Alums Recognized for Their Nursing Excellence
Apr 26 2023 - 11:51am
By: Michelle Bergmann
The Southwestern Adventist University (SWAU) Nursing Department was pleased to announce that two former students, Cindy Knights ('21) and Tanner Hoskinson ('21), recently won awards at the hospitals where they work. Ironically, they are both medical surgical nurses, and they work in two different hospitals, both located in Mansfield, Texas. Cindy was honored as Team Member of the Month for January at Texas Health Hospital Mansfield, and Tanner received the Nursing Excellence award and was nominated for Rookie Nurse of the Year at Methodist Mansfield Medical Center.
It reflects so well on SWAU's dedicated and hardworking nursing professors to have their students go into the field and be recognized in these ways. But deeper than that, these two nursing alums thought right away to contact their professors to tell them the news, because their bonds went beyond the classroom.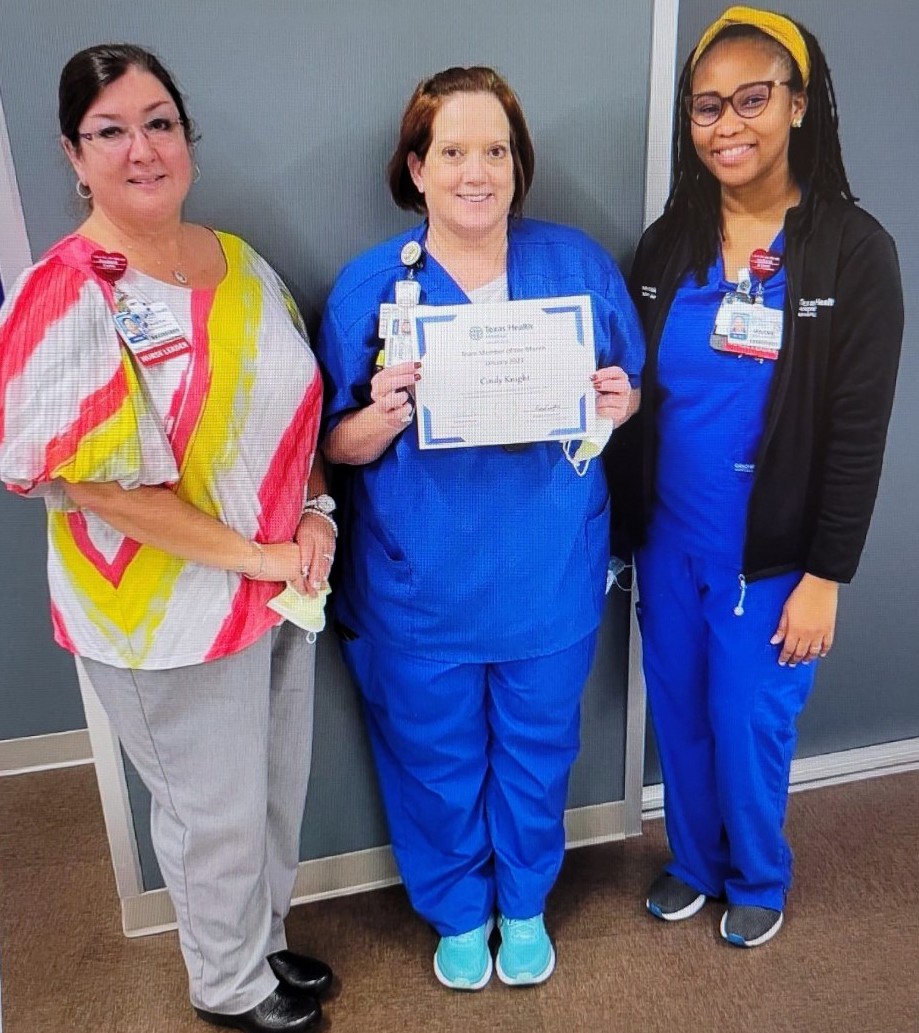 Cindy texted Dr. Terri Gibson, her advisor and friend to tell her the good news. And on the day Tanner finished his one-year Medical Surgical Nurse Residency, he made a trip to SWAU to see his professors, particularly his advisor and friend, Associate Professor Marcia Azevedo.
"We still stay in touch," Tanner says of his mentorship friendship with Associate ProfessorAzevedo. "She was a big part of my nursing career. She encouraged me when I was at my lowest point in nursing school and wanted to give up. She sat down with me and said, 'Tanner, you are going to become a nurse. God has brought you this far for a reason.' I was failing one of my classes at the time and felt very discouraged. I had already failed a course the semester before, and likely I would have dropped out of nursing school, but Marcia Azevedo saw my potential and believed in me. I stopped by the day I finished my residency to say thank you!"
Cindy says, "I was well prepared for my career by the many teachers and staff that taught us and cared for us like family, making sure we understood that our goal is patient safety and working as a team to improve the life of everyone we come in contact with," which is exactly what Cindy was recognized for doing.
Congratulations, Cindy and Tanner! Thank you for living out SWAU's mission, using your knowledge, combining it with your faith, and serving others in ways worthy of recognition. And thank you, SWAU Nursing Department, for your genuine care for students as they learn from you how to skillfully and excellently care for their patients.
Tagged with: nursing, alumni, awards